Hello and welcome to all you beautiful people. Happy month of Easter everyone. To celebrate this time of chocolate bunnies, egg hunting and spring arriving in full force let's look at some bunnies in fiction. These are some of my favourite fictional rabbits in no particular order. Without further ado let's get into it.
Officer Judy Hopps
First up is none other than Officer Judy Hopps from one of the best animated films, Zootopia. Or Zootropolis to those of us in the UK and a few other countries. I love Judy. All she wants to do is help people and make the world a better place. Judy overcomes every obstacle in her way, always with a positive attitude. On her journey to achieving her dreams she faces many challenges and stigma from people set in their ways. Never does she let it get her down, in fact she goes out of her way to prove those people wrong. Not only is she extremely driven, she's also very kind. She gets herself and Nick out of some trouble because of an act of kindness, saving someone's life instead of catching the bad guy. Judy is so inspiring, especially for young children.
Monomi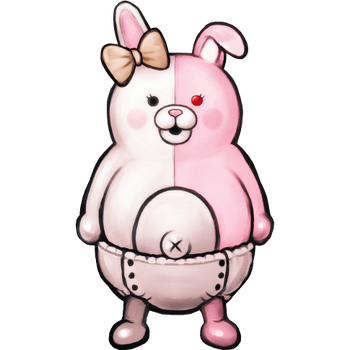 Monomi is a mascot character in Danganronpa 2: Goodbye Despair and appears in Danganronpa 3: The End of Hope's Peak. Originally she was a rabbit magical girl named Usami but is forcefully transformed by Monokuma to resemble him when he takes control. He renames her Monomi. He only changes her appearence not her personality. Right from the beginning the students don't trust, finding her overly sweet nature and low intelligence annoying. Being treated like this doesn't affect Monomi because she only wants to help and protect her students. Whether they appreciate it or not doesn't matter to her; she's used to being underappreciated. Monomi is kindhearted and just wants her students to foster love and friendship. Monomi is the good mascot character to counteract Monokuma's bad, even though she can't do much to stop him. I will admit I found Monomi annoying at times but sometimes she could be useful. And there are moments of dialogue she has that brings the students spirits back up amidst all the despair surrounding them.
Reisen Udongein Inaba
Reisen Udongein Inaba is from the world of Touhou, first appearing as a stage 5 boss in Imperishable Night. She is a refugee moon rabbit who settles down in Gensokyo with notorious moon fugitives Kaguya and Eirin. I will admit I don't play Touhou games or know much about the lore apart from what I hear from my brother. Reisen is one of the characters that caught my attention. I love her design and her fluffy tail is adorable. I find the image of her holding her right hand in finger gun shape cool, implying that's how she fires her danmaku (bullet hell). Her main ability is to make people insane with her eyes, hence why her character theme is titled Lunatic Eyes ~ Invisible Full Moon. Her personality is described as carefree and crazed. She can quickly adapt to the circumstances surrounding her. I don't have much else to say, I just like her.
E. Aster Bunnymund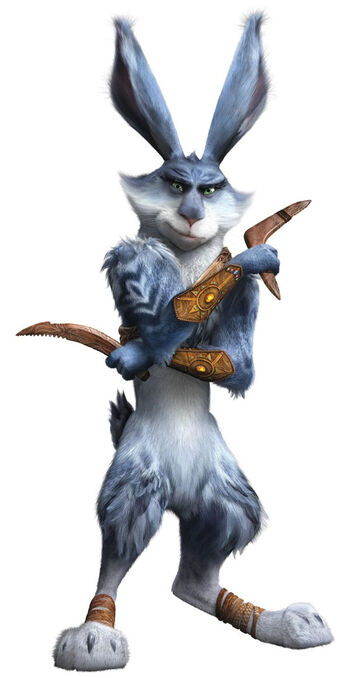 E. Aster Bunnymund is Rise of the Guardians re-imagining of the Easter Bunny. He is a badass. Not only is he a warrior rabbit that travels across the galaxy but his weapons of choice are enchanted boomerangs and exploding easter eggs. Bunnymund is the Guardian of Hope. His home lies underneath Australia which explains why he developed an Australian accent. He is a cool, calm and brilliant warrior. He takes great pride in Easter and the season surrounding it, Spring. I love Rise of the Guardians and think it's a very underrated film. I like a lot of the main cast. I always saw Bunnymund as a badass. He's voiced by Hugh Jackman. Can't get much cool then that.
Cream the Rabbit
Cream from Sonic the Hedgehog is adorable, do I need to say anymore? She first appears in Sonic Advance 2. Something I always found odd about Cream was her method of flight. Wouldn't her ears get tangled up or worse. I guess it's similar to Tails and no need to question it. Cream is generally happy, polite and courteous. Even towards Eggman. She is hardworking and more than happy to help out her friends however she can. Again, do I need to say anything more than that she's adorable?
Rabbit of Caerbannog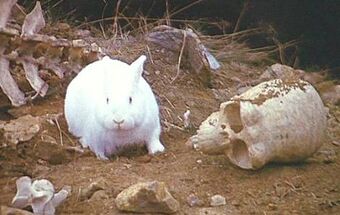 Rabbit of Caerbannog, better known as the Killer Rabbit, is a key antagonist in Monty Python and the Holy Grail. He's so iconic and ferocious that he shows up in the musical adaptation, Spamalot. What appears to be a cute white bunny quickly turns into a rabid beast killing all in it's path. Not a bunny to be messed with. The star of one of my favourite scenes in the film.
Thumper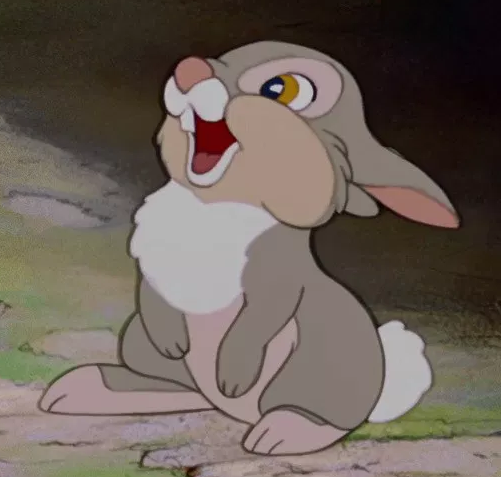 Thumper from Bambi is the best friend of the title character. He is mischievous and takes Bambi under his wing, showing him the ways of the forest. It's been years since I last watched Bambi but I know it was a part of my childhood. The scene I remember most is when Bambi and Thumper meet Flower. I remember their childhood days the most. Especially little Thumper showing Bambi how to do things.
Jihae
Jihae is one of the love interests in Dandelion- Wishes Brought To You, a korean otome game. Jihae is my favourite out of the three bunny characters. He's gorgeous, even in bunny form. Those eyes. He's a loyal knight to Jieun and is very protective of him. Jihae's devotion to Jieun is shown to be completely selfless, bordering on obsessive. Before being romanced he is rather reserved but will express his disdain for the cat characters. On his route he is the perfect gentleman and occasionally acts shyer around the heroine. At times his jealous side will come out mostly because of Jisoo, who sees Jihae as a rival. The heroine helps Jihae overcome his self consciousness and dependency issues. 
Harriet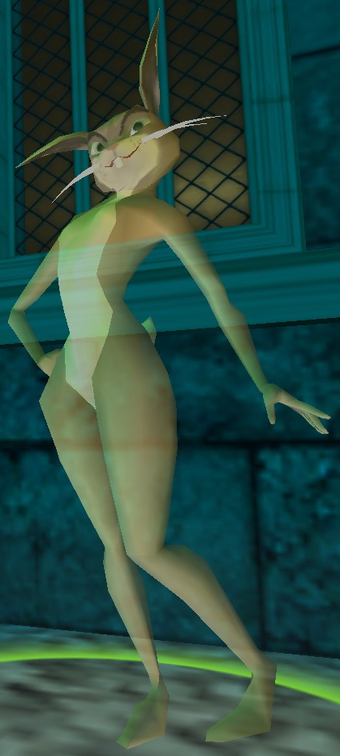 I doubt many people know of this game but one of my favourite fictional bunnies is Harriet from Ghost Master. She's a trickster spirit whose most useful abilities are shapeshift, ethereal gift and abhorrent apparition. The latter can pretty much terrify or drive people insane, especially the mortal she's taken the shape of. Harriet is one of those spirits who harbours a sincere interest in mortals, wanting to make friends with them. After I unlock her I pretty much end up taking her on every future map. It's not surprising considering her character design but she does have quite a sexual tone to her voice. Let's just say she probably introduced a number of furries to that world.   
Buneary
I had to include a bunny pokemon and I chose Buneary. Specifically Dawn's Buneary from the Diamond and Pearl seasons of the anime. Already Buneary has a cute design but Dawn's Buneary uses that to her advantage when competing in contests. In addition she improvises with her moves to stand out more, primarily using her ice beam. She is a cheery, kind and helpful pokemon. Also Dawn's Buneary has a crush on Ash's Pikachu and it's adorable. 
Bonus: Daisy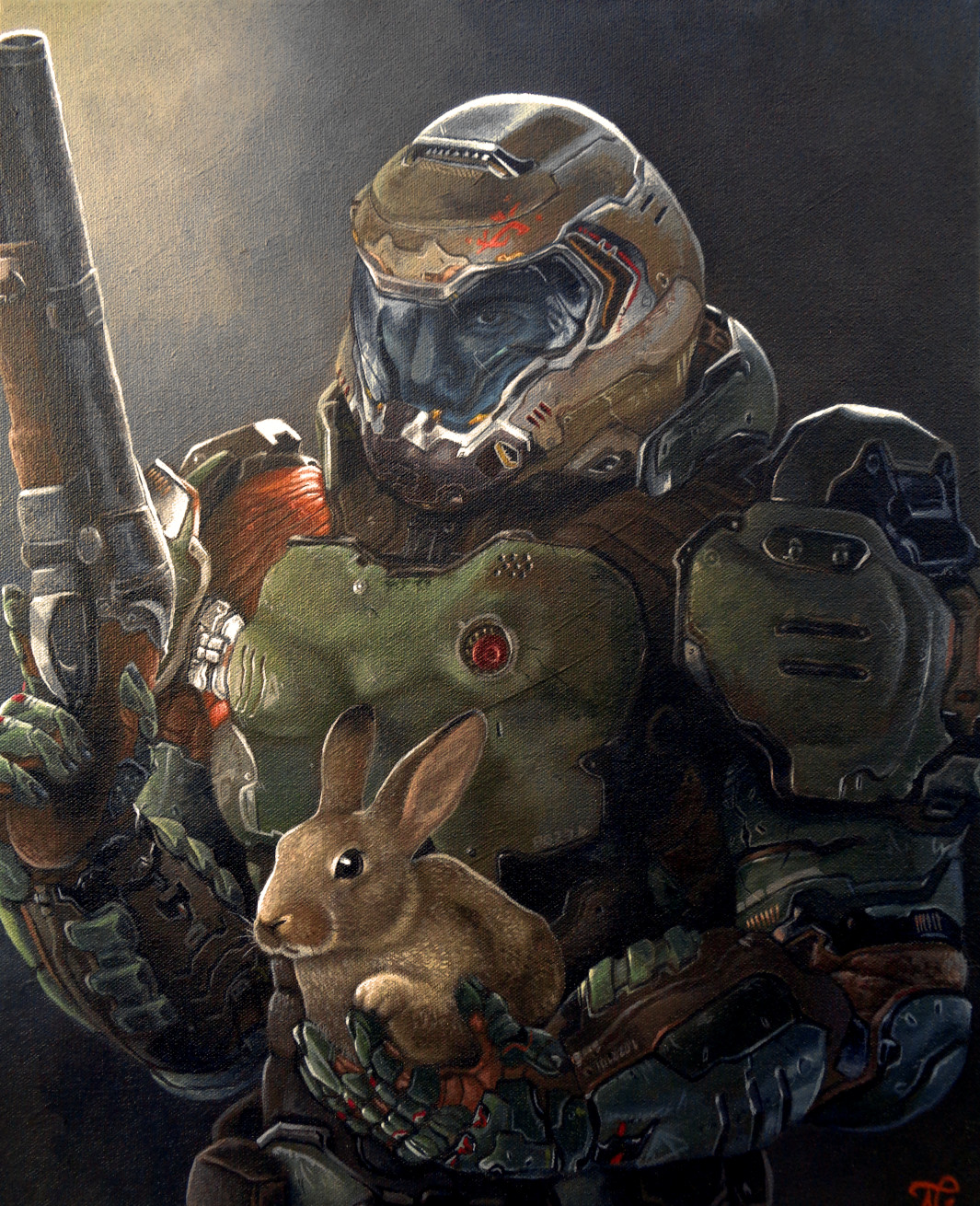 As a bonus we have Daisy. The death of this little bunny in Doom sparked a rage in Doomguy that will never be extinguished. Daisy can be found hidden somewhere in every level of the recently released Doom Eternal.
In conclusion, there are many more fictional bunnies out there but these are a few of my favourites. I either know a lot about them, adore their designs or both. Hopefully you've seen some of your favourites too and hopefully you've been introduced to something new. Thank you all for reading and I'll see you in the next post.
-Your Hostess- 
Image Sources:
https://www.pexels.com/photo/selective-focus-photography-of-pink-cherry-blossom-flowers-2099737/ Photographer- Susanne Jutzeler
https://zootopia.fandom.com/wiki/Judy_Hopps
https://danganronpa.fandom.com/wiki/Monomi
https://besthqwallpapers.com/anime/reisen-udongein-inaba-red-eyes-manga-touhou-54665
https://riseoftheguardians.fandom.com/wiki/E._Aster_Bunnymund
https://www.giantbomb.com/cream-the-rabbit/3005-4691/
https://montypython.fandom.com/wiki/Rabbit_of_Caerbannog
https://vignette.wikia.nocookie.net/dandelion-wishes-brought-to-you/images/8/86/Jh4.jpg/revision/latest?cb=20180416044615
https://vignette.wikia.nocookie.net/dandelion-wishes-brought-to-you/images/5/50/Jihae_rabbit.png/revision/latest?cb=20190406103508
https://ghostmaster.fandom.com/wiki/Harriet